Completed version of this commissioned painting of a D&D party: first the quick A4 sketch: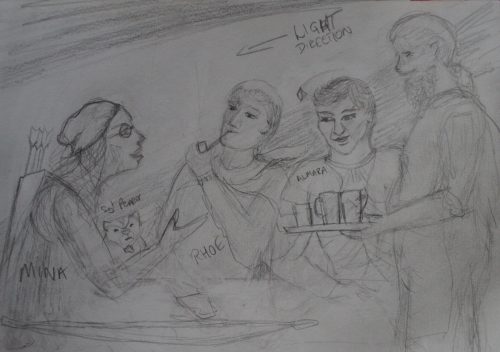 And then the final painted version: I'm told the adventurers are  pleased with it. The Innkeeper on the right is based on the GM (Game Master), who commissioned the painting and was lovely to work with.
As you may have guessed, the lighting and composition was inspired by Caravaggio's wonderful painting, The Calling of St Matthew: I thought I might as well aim high.   But this little painting is just A3 in size, whereas Caravaggio's original is about three meters square!
With commissioned paintings, I would usually discuss ideas with you, then email you a photo of a rough sketch, then later, email a small first-draft incomplete painted version for discussion, and then finally a completed high resolution image.
I am open to making paintings that are only supplied digitally, if you want art to print out yourself and don't want a physical copy.  However, in this case, the person who commissioned the painting did want the original as well as the photo, so it was sent out to them by post.