I wanted to practice some portraits, so here is an A4 portrait of Crowley, played by David Tennant, in Good Omens.  I've loved the book of Good Omens by Terry Pratchett and Neil Gaiman for many years, and it was a delight to see it brought so faithfully to life on the screen.  Below, Michael Sheen as Aziraphale.   These two are both acrylic paintings.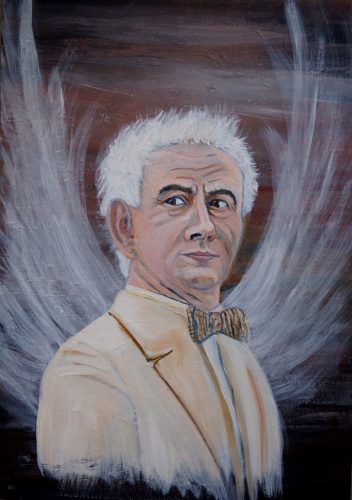 Another much-beloved book – well, series of books, really, is Megan Whalen Turner's Queen's Thief series (I'm eagerly looking forward to the last book!)  So here we have Helen, Queen of Eddis, with her short curly hair, dark skin and broken nose, set against the mountains of Eddis.  Irene, Queen of Attolia, with her pale sad beauty, and her land rich with grapes and grain, and in the middle, the Queen's Thief himself, Gen (Eugenides) who will marry Irene and become Attolis, the King of Attolia.
These are inktense pencil watercolours, apart from Helen's face, which I made a horrible mess of on the first attempt and had to re-paint over the top using acrylic paint.